Become With Us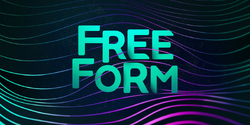 Freeform logo.
Freeform is the American cable and satellite television network that first aired and developed Dead of Summer.
History
On October 6, 2015, the Disney-ABC Television Group announced that ABC Family will be re-branded as Freeform. For the past year, it had been reported that ABC Family executives had been planning to propose a re-launch of the network to appeal a millennial-skewing audience as opposed to families and teenagers.
ABC Family president Tom Aschiem, explained that Freeform's feature programming is aimed for teenagers and young adults between the ages of 14 and 34, a target demographic designated by the channel as "becomers" are in the "formation" of their lives, and reflect a participatory experience for viewers across multiple platforms. Its programming included off-network syndicated reruns and original series, made for TV original movies and feature films.
The rebranding of ABC Family to Freeform officially occurred on January 12, 2016. The new name was chosen among 3,000 proposals with some initial consideration for retaining "ABC" in its name. However, despite firmly focusing on its specified target audience, Freeform continued to carry much of the existing programming it aired beforehand under the ABC Family brand. As Freeform, the network planned to primarily double the amount of original programming on its schedule through 2020.
Dead of Summer
On November 18, 2015, it was announced that Ian Goldberg, Edward Kitsis and Adam Horowitz were all working on a straight-to-series order for a summer camp horror anthology series entitled Dead of Summer for Freeform. The first horror series in the network's history.[1]
"What happens when summer camp goes wrong – really, really wrong. The horror genre is new for us and I'm thrilled to have Adam, Eddy and Ian bring their immeasurable talent to our network and usher us into this new space", added Karey Burke, Freeform executive president.[1]
On April 7, 2016, Freeform announced that Dead of Summer would premiere on June 28, 2016 at 9/8c.[2]
External Links
References
Community content is available under
CC-BY-SA
unless otherwise noted.